Welcome!
 We are a non-profit association focused primarily on Real Estate Education, that meets once a month with guest speakers, to share ideas mainly on Real Estate, Taxes, and Asset Protection. Our guest speakers include local seasoned investors, attorneys, CPA's, Realty brokers, stock speakers, our own members, and some of the best real estate gurus from around the country!  We have investors of all levels. First time Visitors are welcomed to visit for $20 (which we will credit towards your membership if you join the same night). For Membership Click on the "Join" Link above for form to print and mail. We usually meet on the 4th Monday of each month at 6pm. Click on "Map & Directions" link for location. See "Benefits" Link for more details of membership. If you are serious about learning how to make money in Real Estate, join us for the best education, and networking in Birmingham. Bring a note pad, and plenty of your business cards, and get to know fellow investors to learn how they do what they do! For more Information, visit our Core Values page or contact: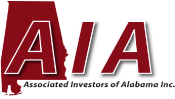 ---

*

Saturday

Training*
August 27, 2016 8:30 AM
Innovation Depot
1500 1st Ave N.
Birmingham, AL 35203
STACY ROSSETI – Atlanta, 
FIX and FLIPS pretty houses. Stacy does 3-5 deals monthly, of nice houses as you can see at: http://www.diamondintheroughsolutions.com/homes-for-sale/ check her website out.
Take a look at the video for AIA
https://drive.google.com/open?id=0B2zTcuB83k00bHN0YTZOUFJEaDA

STACY ROSSETTI  Fix and Flip Specialist with teach her entire systems for 8-9 Hours Sat. at Innovation Depot downtown. Check in 8:30 starting. No course for sell, but she will share her Templates and train each individual how to run Google Drive completely. On her Real Estate Templates she manages 3 to 5 FLIPS per month, over 50 last year, all organized, and systematized, in only 3 days work days per work. She will teach everything she does in her office in Atlanta. Also manages a number of her own rentals on these same systems she has written- you get each one. 
 
Cost is $199 for AIA members, $239 non members. No additional Training will be needed but she is available by phone. AIA WILL VIDEO the Meeting and send the link to all attendees for review of the training!  Lunch is provided!  RSVP to jeinsurance@aol.com. Space is Limited and half full now!  Stacy did a super good meeting at AIACLUB.COM Monday night to 102 people. Someday soon we may see her on HGTV imo. See her link below for more details.
https://drive.google.com/open?id=0B2zTcuB83k00X2FJWUJDTVp5Y2M
Questions contact JACK EYER- AIA Chairman & director at JEINSURANCE@AOL.COM.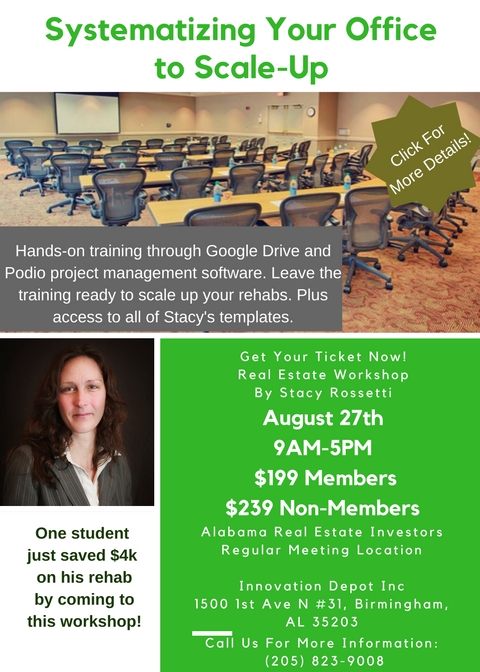 Coach Jack Eyer CSCS
205-586-4260 cell
AIA CHAIRMAN
---
Thank You! to Our Home Depot ProDesk Reps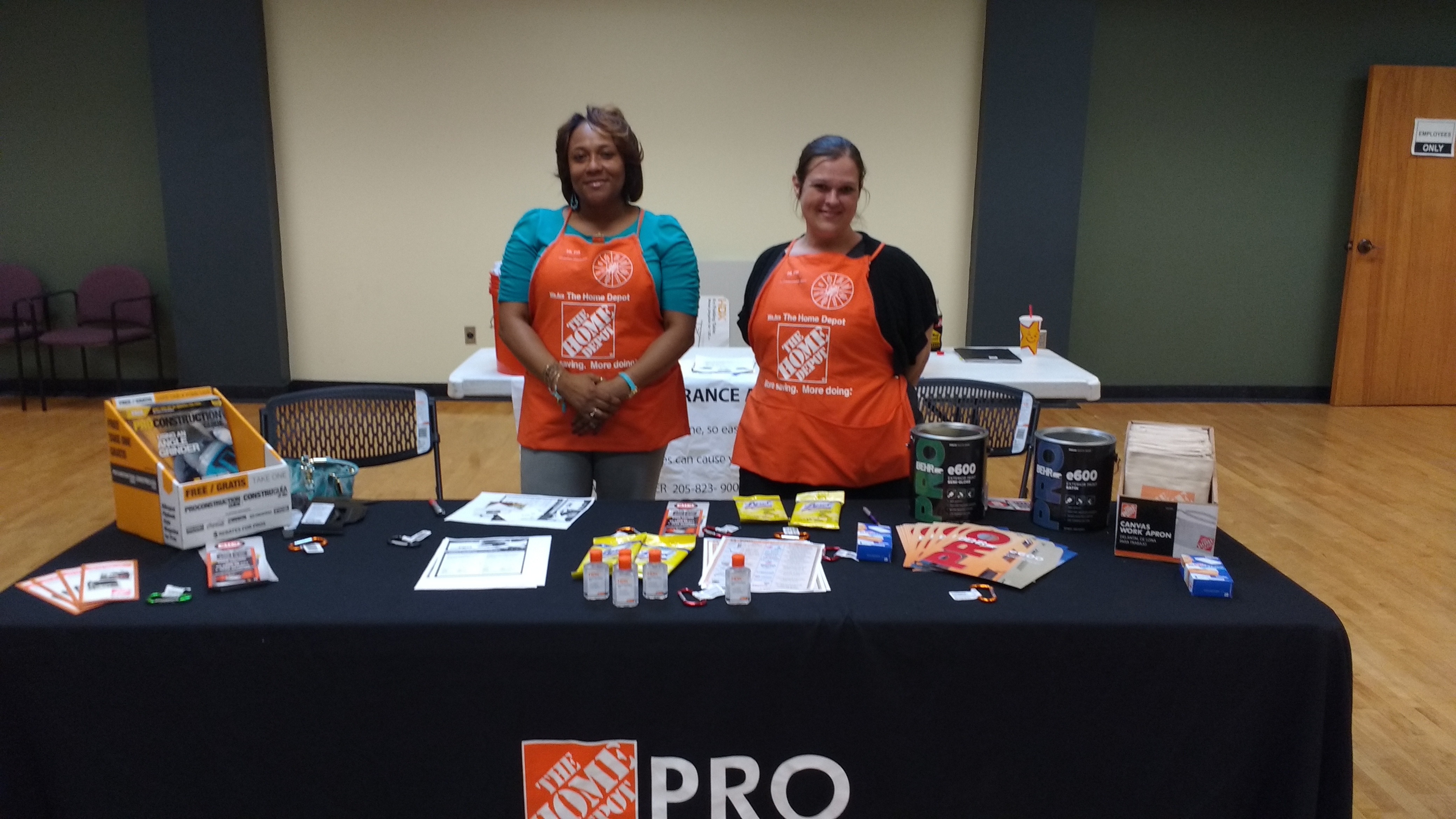 Regular Meeting Location
 Homewood Senior Center
816 Oak Grove Rd Homewood AL 35209
Map and Directions

*Members Lunch*
2nd Tuesday each month

Members Monthly Luncheon
Is on the 2nd

Tuesday

each month.
Lunch is at 1:15

pm
Sol Azteca  
1360 Montgomery Hwy #128,
---
---

4 Monthly MEETINGS FOR AIA MEMBERS: 

1st

Tuesday

:
OF EACH MONTH –  BREAKFAST at
"PRIVATE LENDING"- get high interest with your CD money
or Retirement IRA, and supply Investors with needed funding.
---
2nd

Tuesday
: AIA LUNCHEON  
1:15 pm
Come and share your "I HAVE and I WANT".
---
3rd

Monday

:
AIA MEETUP for Eastern AIA Members
at
5:30
Jim Huggins Realty – Leeds. guests free.
Contact : KATHA  369-2250. or  Jim.
---
4th 
Monday

:
MAIN MEETING at
5:30pm
.
Vendor & Networking Hour then Local or National
Speaker.
---