Welcome!
 We are a non-profit association focused primarily on Real Estate Education, that meets once a month with guest speakers, to share ideas mainly on Real Estate, Taxes, and Asset Protection. Our guest speakers include local seasoned investors, attorneys, CPA's, Realty brokers, stock speakers, our own members, and some of the best real estate gurus from around the country!  We have investors of all levels. First time Visitors are welcomed to visit for $20 (which we will credit towards your membership if you join the same night). For Membership Click on the "Join" Link above for form to print and mail. We usually meet on the 4th Monday of each month at 6pm. Click on "Map & Directions" link for location. See "Benefits" Link for more details of membership. If you are serious about learning how to make money in Real Estate, join us for the best education, and networking in Birmingham. Bring a note pad, and plenty of your business cards, and get to know fellow investors to learn how they do what they do! For more Information, contact: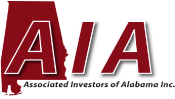 Special Meeting Saturday!
AIA FIX and FLIPPERS + LENDERS =  Lunch & Learn on Flips at 

11:30 am

 Innovation Depot- 1st Ave. North Downtown


Saturday 4/23

.
BRING YOUR OWN LUNCH or we will have some catered, and let's learn about how to BUY/REHAB/FLIP pretty houses- AIA MEMBERS ONLY, because space is limited. Great Venue at Innovation Depot location downtown, between 1st and 2nd Avenue north- INNOVATION DEPOT  main hall center of building.
IF you don't have MONEY, or access some quickly, this is not a meeting for you. I hope you can understand this point! You can do RE without money in a lot of other ways, such as our Meeting
on Monday
night – 4th
Monday
upcoming. But not Flipping pretty houses- it demands $$$. Private Lenders of AIA can help, but they don't want to do 100% of the deal.  It is called having skin in the game..
MAKE Your plans now for this FIX and FLIP day if it fits you!.  Expect the meeting to be about 3 Hours..  Plan to have some LIVE deals available at this meeting to consider by our AIA Preferred Realtors.. Look to see all of you
on Monday
night at Homewood Sr. Center.
Thank you for being part of the AIA family of Investors. AIA is doing more than ever before, in Meetings and Benefits.
Sincerely,

*Monthly Meeting*
AIA Real Estate Investors Association members, and visitors
The April  4th Monday nightmeeting 
is going to be a SPECIAL meeting for ALL those who
have little or NO money to invest in Real Estate. OR like me, who don't want to invest their money in Real Estate, and believe in the objective of using Other People's Money to invest. I don't know of any other investment/business you can do this besides Real Estate!  Scott Ulmer is the expert in LEASE OPTIONS, and has perfected a special technique of how to APPLY them in the marketplace.  Mark your calendar NOW to not miss– ALL of you without money. This is one of a very few methods to invest WITHOUT ANY MONEY!!!! Many of you asked me about this often- well it is coming.. It is all about knowledge, technique, forms, and system to effectively be in this marketplace, but not your having $$$$..
WOW what a great meeting we had this past monday AIA Meeting with Scott Long- AIA Preferred Property Manager, and AIA Preferred Realtors who are trained to work with Investors. There was a great energy, spirit of helpfulness, and free FOOD. If you missed it, you missed out! Don't miss April, mark it down now  – 4th MONDAY night.Because of these great Business Vendor Discounts, AIA membership costs you NOTHING: zero – it is about how much do you SAVE by being a member, and put back into your Real Estate business!! It is real money management that can be felt.JOIN TODAY.

*Members Lunch*
2nd Tuesday each month

Members Monthly Luncheon
Is on the 2nd

Tuesday

each month.
Lunch is at

5:30pm
Sol Azteca  
1360 Montgomery Hwy #128,
---
---

4 Monthly MEETINGS FOR AIA MEMBERS: 

1st

Tuesday

:
OF EACH MONTH –  BREAKFAST at
"PRIVATE LENDING"- get high interest with your CD money
or Retirement IRA, and supply Investors with needed funding.
---
2nd

Tuesday
: AIA LUNCHEON  
1:15 pm
Come and share your "I HAVE and I WANT".
---
3rd

Monday

:
AIA MEETUP for Eastern AIA Members
at
5:30
Jim Huggins Realty – Leeds. guests free.
Contact : KATHA  369-2250. or  Jim.
---
4th 
Monday

:
MAIN MEETING at
5:30pm
.
Vendor & Networking Hour then Local or National
Speaker.
---