Welcome!
 We are a non-profit association focused primarily on Real Estate Education, that meets once a month with guest speakers, to share ideas mainly on Real Estate, Taxes, and Asset Protection. Our guest speakers include local seasoned investors, attorneys, CPA's, Realty brokers, stock speakers, our own members, and some of the best real estate gurus from around the country!  We have investors of all levels. First time Visitors are welcomed to visit for $20 (which we will credit towards your membership if you join the same night). For Membership Click on the "Join" Link above for form to print and mail. We usually meet on the 4th Monday of each month at 6pm. Click on "Map & Directions" link for location. See "Benefits" Link for more details of membership. If you are serious about learning how to make money in Real Estate, join us for the best education, and networking in Birmingham. Bring a note pad, and plenty of your business cards, and get to know fellow investors to learn how they do what they do! For more Information, visit our Core Values page or contact: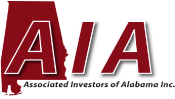 Real Estate & Wealth Expo
February 23-24 2019
Info Below & ALREIA.org

---
Alabama Real Estate
 Next Meeting
February 23-24 2019
Location:

Real Estate & Wealth
Expo
February 23-24 2019   8am
Southeast Region
Birmingham Alabama
Don't Miss this Event!
Free Admission for Active Military, Police, Firemen with Valid ID



Speakers
Meet Our Speakers
Ron Legrand
The Millionaire Maker
Jeffery Taylor
Mr. Landlord
Randy Huges
Mr. Land Trust
Brian & Lynette Wolff
Negotiating- RealEstateInvestingEZ
Interested In becoming a Sponsor? Email Jack
Jack Eyer
Real Estate & Wealth Management

 

Tuesday

Lunch…
2nd Tuesday each month

Alabama Real Estate Investor Association
JACK EYER – AIA/ALREIA CHAIRMAN
Serving & Educating Investors for 32 Years now! 
---
Real Estate Training!
PHP -Professional Housing Provider
Click Here for Details!!!

---
JACK EYER CSCS
Insurance & Real Estate
205-586-4260 cell
AIA CHAIRMAN
AIACLUB.COM


---
---

3 Monthly MEETINGS FOR AIA MEMBERS: 

Saturdays :
OF EACH MONTH – 
Saturday

morning

9:30 AM

"Guaranteed Financing" meeting at Penn Mutual offices next to the Hilton on 280 & 459. Must RSVP for one of only 7 seats  jeinsurance@aol.com. 
.
---
2nd

Tuesday
: AIA LUNCHEON  
1:15 pm
Come and share your "I HAVE and I WANT".
---
---
4th 
Monday

:
MAIN MEETING at
5:30pm
.
Vendor & Networking Hour then Local or National
Speaker.
---