Welcome!
 We are a non-profit association focused primarily on Real Estate Education, that meets once a month with guest speakers, to share ideas mainly on Real Estate, Taxes, and Asset Protection. Our guest speakers include local seasoned investors, attorneys, CPA's, Realty brokers, stock speakers, our own members, and some of the best real estate gurus from around the country!  We have investors of all levels. First time Visitors are welcomed to visit for $20 (which we will credit towards your membership if you join the same night). For Membership Click on the "Join" Link above for form to print and mail. We usually meet on the 4th Monday of each month at 6pm. Click on "Map & Directions" link for location. See "Benefits" Link for more details of membership. If you are serious about learning how to make money in Real Estate, join us for the best education, and networking in Birmingham. Bring a note pad, and plenty of your business cards, and get to know fellow investors to learn how they do what they do! For more Information, contact: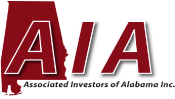 September 22, 2014
Registration 5:30pm
Guest Speaker 
 Tom Zeeb
"Rapid Cash Generation: How to Quickly Make Money Without Money in Real Estate!" 
Everyone who attends the meeting will get
an audio CD entitled:
 "Packaging your deals for a rehabber: The 9 deadly mistakes wholesalers make to tick a rehabber off"
 The value is $97.
816 Oak Grove Rd Homewood AL 35209
Alabama Real Estate Investor Association
********************************************
Contact Jack Eyer jeinsurance@aol.com
---
Is on the 2nd & 3rd Tuesday each month.
Lunch is
 at 1:15pm
Luncheon has been moved to Hwy 31 in Vestavia
SOL AZTECA


Mexican Restaurant


1360 Montgomery Hwy.
Suite 128 Vestavia Hills, AL. 35216
205-979-4902